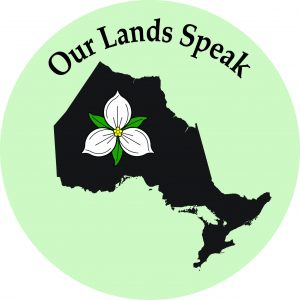 In the fall of 2019, Our Lands Speak series expanded again with volume three of the popular book series by Bill Finlayson, Ph. D, and the first occasional paper in Our Lands Speak Occasional Papers in Ontario Archaeology.
The Archaeology of Two Whitchurch-Stouffville Farmsteads
Bill Finlayson's passionate attention to detail combined with the deep respect he has for the generations of people whose history he reveals—along with the integrity he demonstrates on every level—makes it a pleasure to partner with him to bring his exceptional work to life.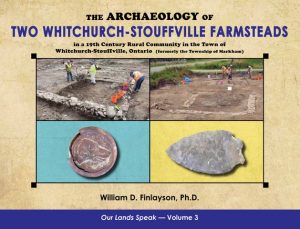 As Bill imparts in the introduction of The Archaeology of Two Whitchurch-Stouffville Farmsteads: A 19th century rural community in the Town of Whitchurch-Stouffville, Ontario, "These excavations provide fascinating insights into the Indigenous occupation of this area prior to Euro-Canadian settlement. . ."
The richness of discovery and learning lies in every element of this work: agricultural, geographical, societal, and, of course, the incredible artifacts that speak volumes about the nature of the time.
I C Publishing is proud to support Dr. Finlayson's ongoing personal efforts to take the results of his archaeological resource assessments to the general public by means of a high quality, full-colour publication series, and to provide his clients with value added to recognize the support they provided in digging these important heritage sites. It is gratifying to see that this has led Bill to requests from the public for speaking engagements supporting local archaeological and historical societies, libraries, and museums. He is a true master and maverick with a wealth of knowledge many can benefit from.
The First Occasional Paper in Our Lands Speak Series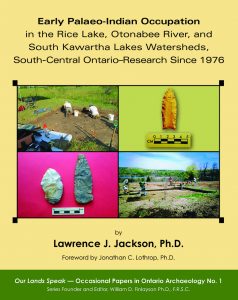 It's an impressive alliance that would have these two scholars, Our Lands Speak series founder, Bill Finlayson, and author Lawrence Jackson, Ph. D., collaborating on the publication of the very first occasional paper in Our Lands Speak Occasional Papers in Ontario Archaeology: Early Palaeo-Indian Occupation in the Rice Lake, Otonabee River, and South Kawartha Lakes Watersheds, South-Central Ontario–Research Since 1976.
As Jonathan C. Lothrop, Curator of Archaeology, New York State Museum states in the foreword of this paper, "Few researchers have laboured as long and hard as Dr. Lawrence Jackson to model the lifeways of the first peoples to inhabit the eastern Great Lakes."
Bill Finlayson indicates in the preface that, "This work clearly reinforces Jackson's position as one of the foremost Palaeo-Indian scholars in Ontario and Canada. This volume is a major contribution to Palaeo-Indian studies and will be of interest to those with similar interests in Canada, the United States, and beyond."
It is clear from the acclaim for Dr. Jackson and his work that this paper aligns with Bill's vision that Our Lands Speak series be a quality and forward-thinking platform for disseminating vital information about Ontario's rich archaeological history, including both historic and prehistoric work, as well as important First Nation perspectives.
There is a compelling need for a platform and series such as this to showcase manuscripts of historic significance and exceptional quality, both provincially in Ontario, and nationally in Canada.
For more information on Our Lands Speak series, you can visit the I C Bookstore and/or follow Bill Finlayson's blog here.
Thank you for your ongoing interest in the work we do and the education and inspiration our clients are committed to providing. Supporting local and national authors, experts, and businesses alike enrich our greater community and open doors for many more.
Wishing you the very best this holiday season,
Warmest regards,
Sheri Andrunyk
Sheri Andrunyk © 2019
Publisher, Senior Writer, Mentor, Author
Founder of the Hearts Linked by Courage Project
I C Publishing & Consulting / I C Bookstore
Committed to Quality Content, Design, and Platform