The Hearts Linked By Courage Project
Not-For-Profits Raising Awareness with Hearts Linked by Courage Book and Series
"Sheri was available to us every step of the way—answering questions, providing advice, and working with us and our authors to ensure their stories were told in a way that honoured their person and the journey. The finished product was delivered on time and on budget and is everything we wanted."
Alzheimer Society of York Region
"Hospice Georgina's Hearts Linked by Courage book was such an impactful project! It allowed stakeholders to come together, for individuals to have their voices heard, and to celebrate 20+ years of work in the community. Grateful to have been able to undertake such a worthwhile venture."
Marie Morton
Executive Director (past), Hospice Georgina
"I C Publishing is not just about the business of publishing; their true calling is one of inspiring people and improving society. Their values are very much in line with those of CMHA! I highly recommend them to any social service organization that is interested in producing a quality book that speaks to inclusion and inspiration."
Neil Howard
Director of Programs (retired), CMHA York and South Simcoe
Not-For-Profits Raising Awareness with Hearts Linked by Courage Book and Series
A message from the founder and publisher of the Hearts Linked by Courage Series
The Hearts Linked by Courage Series supports the important work of the not-for-profit sector in their ongoing efforts to inform our communities about each worthy cause, their good news stories, and their challenges. There are many as we know.
My first book in the series shares eighteen bravely told stories, expressed with incredible dignity and insight. They run the gamut of personal trials from mental illness and cancer diagnosis to abuse and death. Some stories are very close to me; others were contributed by friends and colleagues. Each one reminds us of the resiliency and strength of the human spirit, and who we become in the process of enduring these times.
In 2016, we published the second book in the series with the Canadian Mental Health Association York and South Simcoe. We are tremendously proud to be a part of this compelling and thoughtful collection. As Director of Programs, Neil Howard, shared in our interview, ". . . Storytelling, sharing our personal journeys . . . is one of the most powerful ways to hold people's interest, present a sensitive topic, and to educate."
In 2018, we released the third inspiring book in the series with Hospice Georgina.
These stories can connect us all in a deeper way, and raise awareness and funds for the agencies that try to accomplish so much with limited resources.
Over the years, Hearts Linked by Courage has served as a great little book for some very important causes, whereby an organization receives a minimum of 25% of all book sales generated during their fundraising campaign and/or event.
Like with our most recent publications, we have created another very unique opportunity sharing the Hearts Linked by Courage name and theme with approved not-for-profit organizations, where they can collect their own stories—providing a meaningful way to celebrate individual successes, educate the public, and shed light on the needs and challenges still present.
In addition, they can earn more, up to approximately 70%, on the sales of their organization's published book. The funding necessary for this project is relatively minimal, and can easily be recouped with initial book sales. Grant funding is also a possible source, and collaborating with other regions in your organization to gather stories and share costs is another option.
Beyond the dollars raised, your Hearts Linked by Courage book will increase awareness and celebrate the milestones you and your clients achieve.
Mental Health Friendly Business Award
From CMHA York and South Simcoe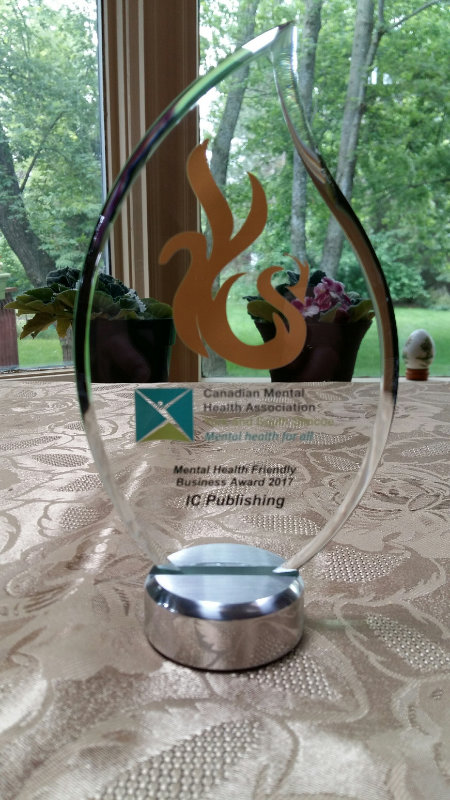 Mental Health Friendly Business Award from CMHA York and South Simcoe
This award recognizes the contributions of local business who serve as champions of respect, equality, and mental health for all. It recognizes businesses that are friendly and welcoming to all customers, who make an effort to be supportive of CMHA staff and/or clients/families, provide an atmosphere that is safe and inclusive to everyone, demonstrate a willingness to provide fair services to CMHA clients/families, and to go that extra mile to make CMHA clients/families feel welcome, supported, and safe.
In the summer of 2016, after months of focussed effort, the book Hearts Linked by Courage: Real-Life Stories of Challenge, Triumph, and Hope was published. Through this inspiration, eighteen authors (volunteers and clients) came forward to be published. Most of these individuals were not experienced writers. This did not deter I C Publishing at all. Instead, mother and daughter team, Gayle and Sheri, applied their passion, sensitivity, and encouragement to move all the aspiring authors forward to success. It is clear that I C Publishing values are very much in line with those of CMHA.
Emerging Into Light
Based on the myth of the phoenix, the bird that erupts into flames when it dies and is reborn from the ages, Emerging Into Light is a personal symbol of resilience and recovery for people who care about mental health, mental illness, and additions. The image, also featured on the award, was created by Jennifer Osborn, a talented young Canadian artist and consumer of mental health services.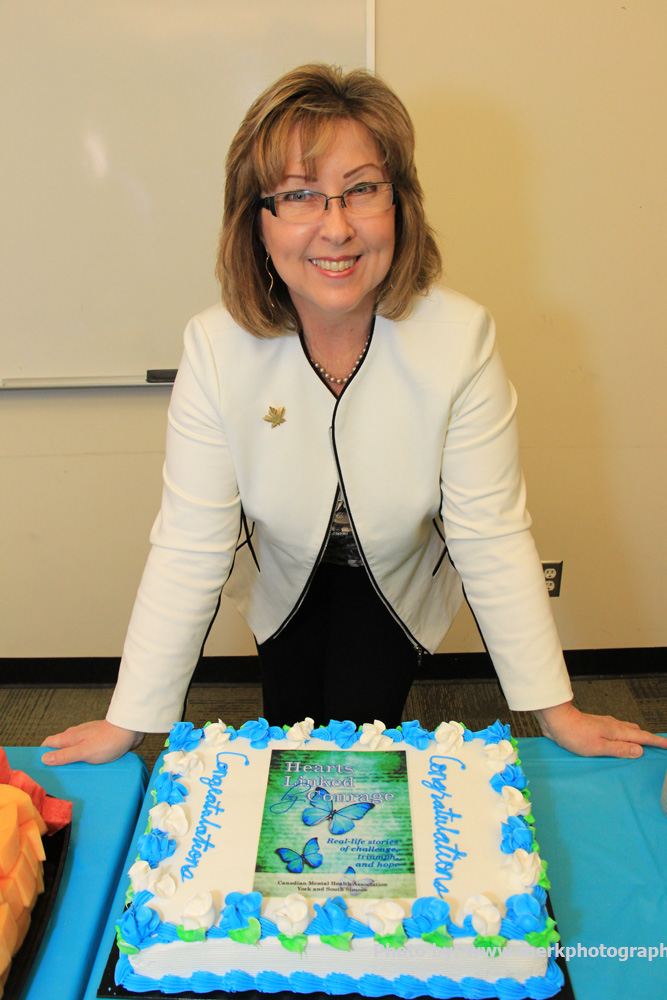 Consider the benefits of collaborating with I C Publishing, an experienced publisher that has your concerns at the forefront.
We will use our social media base and growing network to help expand your reach. This in turn will capitalize on your efforts to connect with a larger audience, which can ultimately translate into both new volunteers and increased funds.
If your organization is interested in either of the above, please contact me directly, and I'll be more than happy to assist you by answering any questions you may have and providing additional information.
Should you simply wish to purchase one of the books in the Hearts Linked by Courage series, you can pick up a copy online at the I C Bookstore, or Amazon.ca.
Thanks so much for your time. Please share this opportunity with those who may have a similar focus, and know the comfort, connection, and support other people's journeys can provide.
Warmest regards,
Sheri Andrunyk
Founder, Publisher, Author, Mentor