When Jenna completed a routine writing project back in teachers' college, little did she realize what the story would eventually blossom into . . . It is only when you travel with Jenna through There Is This Place that you can fully appreciate the magical journey waiting for you. Jenna encourages us to take one day at a time, to drink in each moment, and to slow down long enough to even let fireflies light our way.
This multi-talented author blends the beauty of her exquisite story with equally captivating illustrations, which bring her adorable childhood experiences to life. Her words flow effortlessly from one dimension to another, inviting us to find our own place and its own magic.
What inspired you to write/create this book?
There Is This Place was originally written as an assignment for my Literature and Language class in teachers' college at Nipissing University. My professor, Christine Duncan, challenged us to write a children's book. The book I began writing was not necessarily a children's book, however, I still received very good reviews from both Christine and my classmates. Shortly after completing this project I began feeling like it had the potential to stand on a larger stage. At the time, I was preparing to leave the country for a year or two, so I put the book aside for the time being, believing I was not done with it yet. Three years later we are here.  The book's beginning was because of an assignment, but the book's heart comes from my love affair with the lake my family frequented my entire life. It's a place that has always remained magical to me even as I grew up.

What do you want others to gain from your book?
My wish is that readers are reminded to stop and smell the roses. We live in such a high speed, all consuming, and utterly distracted world. As a teacher, I see how this is affecting our children and it is a bit scary. When we role model these characteristics we are teaching our children to do everything at once and nothing well. I really hope that readers can enjoy a quiet moment with There Is This Place, and be reminded that when you stop multitasking and allow yourself to take in your surroundings, there is so much magic all around you. I also hope we can all be reminded of our mutual responsibility to nourish ourselves and our world.

What was your creative process for this project?
I think there are two different creative processes happening in this book, artist and author.
As an artist I have to turn off the world and settle into a small space with a large flat surface, all of my tools close at hand and neatly displayed in front of me. It is also important to close out distractions and clear my head of everything except the goal of the art session. I always set myself a goal before I begin, and visualize the steps I need to take to get there. I have mini-celebrations throughout the process. I usually do a little dance or give a fist pump, followed by a quiet, but emphatic "YEESSSS!" I take frequent breaks where I just move a little. This helps me get rid of tension I may be feeling about putting every mark in its rightful place, and it lets me celebrate what I have already completed as well.
As an author I am not sure of my creative process yet. For this book, I had been asked to write. I think, for me, it's about getting everything out of my head first and in type. Once there, I can work on making it make sense and use better language.  In the case of There Is This Place, I believe the theme, message, and idea were already there. I had been painting and drawing about it for years throughout my university career. For the first time in a long time, I had been asked to write something creative, something from me, and this story just spilled out.

Why did you choose the story-telling format you used?
Like I mentioned above, I believe the idea of this story was already there. It had been a recurring theme for years in my art, but I had not been given the chance to express it in such simple terms before. The world of art is a complicated one, and if your thesis of work does not appeal to the contemporary art critic, your work is considered "commercial art".  Maybe I am just that, maybe I am not. It doesn't matter either way to me.  What matters is that for the first time throughout my career as an artist, I was allowed to simply tell my story.
The lyrical form the book is written in just sort of happened. I think I was hoping that by repeating the same words the significance would come across clearly. I wanted as few words as possible to tell my message, purely because the message is simple. When you stop to smell the roses, they smell oh so sweet.

What's next for you as an author?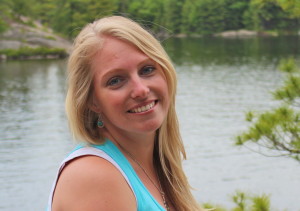 I feel as though There Is This Place is still not fully finished. I think there is more to come, perhaps a sequel or series.  We will have to wait and see!
Intricately, Jenna has woven this tapestry to appeal to both young and young-at-heart, and our greatest hope is that this exciting new author will continue to share her creativity with her newest fans. She learned early on the significance of that special place, and as thoroughly entertaining as her book is, There Is This Place is also an important handbook to help us all find the splendour in the simple.
Jenna has merely scratched the surface and allowed her imaginative and inspirational juices to flow freely, and we are eager to see what else she has to share with us.