As promised in my January message, my interview with author Jenn Pike is finally ready to publish and it's extra special for me. Working with Jenn has been such a treat. We're both passionate about inspiring and bettering people's lives, and Jenn does this through her wealth of knowledge and experience in the health and wellness field. We embrace and share our heart-centred gifts and encourage others to as well. So, I invite you to pour your favourite elixir or latte from one of Jenn's popular cookbooks and enjoy our short yet deeply meaningful chat.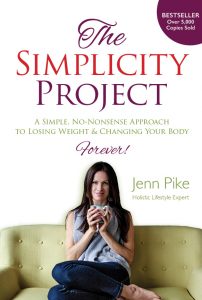 Sheri: In under seven years, you sold your first 5,000 copies of The Simplicity Project. It's been an absolute pleasure and honour playing a small part of bringing The Simplicity Project to life and supporting your journey. You love what you do, you stayed the course, and did the work while remaining true to yourself and your family. Inspiring. We're so happy for you, Jenn.
Sheri: It's a multi-layered question, however, I'm sure many people wonder how you did it?
Jenn: Well, it didn't happen overnight, that's for sure. For the past seven years, since the book was released, I have shared it in a very organic way through my YouTube channel, social media pages, my email list, workshops, and courses. I've offered to do book signings and talks at various locations, reaching out to colleagues who owned clinic spaces or health oriented businesses to see if they would like to sell it, and most recently I've promoted it through my podcast, The Simplicity Sessions.
My book didn't come about in the traditional way. I didn't have a publishing house reach out to me in 2012 and say, "Hi Jenn, we would love to offer you a book deal and cover the cost in exchange for your work." I produced this book with 100% of my own financial backing and enlisted the help of Sheri and her fantastic team at I C Publishing. It wasn't an easy endeavour; I am a speaker, not a writer by nature, so it was a lot of editing, learning how to write, and many months of back and forth before the final product came to life. However, I was so committed and determined to get my thoughts down on paper—and get my message out—that I dug deep, stuck with it, and trusted the process. I'm so pleased with how my book turned out. And seven years later, here we are, at this beautiful accomplishment.
As an aside, in case you're wondering whether I ever considered pursuing the idea of having The Simplicity Project traditionally published, I recall one such opportunity. I had entertained a conversation with a traditional publisher who essentially want to stifle my message to a more generic level for all. I knew the book and my work wasn't "for all." I had a certain woman in mind when I wrote this book and wanted to maintain that integrity and purpose throughout. I also didn't like the fact that I would be signing over rights to many aspects of my work within the publishing deal. So, I carried on my own path, which was best for me.
I would add that I am very grateful for everyone who follows my teachings and philosophies and adapts them to enrich their own lives and journeys.
Sheri: How does it feel to reach this pinnacle of what is obviously very meaningful success for you?
Jenn: Really special.  
It happened quite unexpectedly for me. Believe it or not, it wasn't a goal I had set out to achieve. I simply wrote the book, got the words out of my head and heart. and moved forward into teaching the work and building my company. When I found out that we had hit the 5,000 copies, a true national bestseller in traditional terms, I was really proud of myself.
I firmly believe that energy flows where attention goes and in these past seven years my energy has flowed into my work, and the success of my first book is just one of the beautiful results of this.
Sheri: What would you say to other authors and entrepreneurs who aspire to attaining similar accomplishments?
Jenn: Follow your passion, write your book, and/or start your business because YOU are so lit up and passionate about it.
Those thoughts that occupy your head and your heart, the things you daydream about, the soft whispers you hear nudging you along—those are your gifts and your purpose. Trust them and give yourself permission and the grace to be imperfectly perfect and begin.
Sheri: What's next for you?
Jenn: That's a great question. Travel with my husband this month and our family next month; personally, that is what's lighting me up the most right now.
Professionally, I have my core educational programs I offer, The Hormone Project and The Simplicity Project; and Synced rolling out this year, as well as two new projects I am really excited about, an international certification for my movement program, Rock Solid Booty, certifying other fitness leaders from around the world to teach . . . and the other, well, I have to keep that one under wraps for a little longer. Stay tuned though. 😊
Last but not least, there are also the rumblings of turning my program, The Hormone Project, into a book but I am allowing myself the grace to sit with that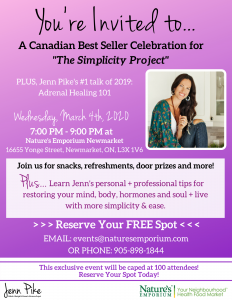 one a little longer.
Sheri: Warmest congrats again, Jenn.
Through consistent and passionate commitment to our craft, our purpose and vision, our clients, and family, rich abundance transpires in its many forms. As recently announced and shared in this post, together with Jenn's input of course, we created a new cover for The Simplicity Project to commemorate over 5,000 copies sold.
Remember, Jenn will be at Nature's Emporium in Newmarket on March 4th for the official unveiling, and I know she'd love to see you.
It's early yet in 2020. Stay well and be happy. Bloom where you're planted. Live your dreams. And make a difference like only you can.
With kindest regards,
Sheri
Sheri Andrunyk ©2020
Publisher, Senior Writer, Mentor, Author
Founder of the Hearts Linked by Courage Project
I C Publishing & Consulting / I C Bookstore
Committed to Quality Content, Design, and Platform