We're proud to announce the fifth book in the series, Hearts Linked by Courage – People Supporting People, by CAYR Community Connections.
Tremendous appreciation goes to Executive Director of CAYR, Marie Morton, for her commitment to learning and growing in her own journey. I'm grateful that she saw the potential of what this book could be—much like the other volumes in this series—a meaningful opportunity to tell more stories of incredible human spirit, courage, and living on one's own terms as everyone deserves to do.
Peer Links is a dynamic team of thoughtful, caring, and experienced individuals. They lead the charge to reduce the stigma and the lack of understanding around HIV/AIDS, substance use, and identifying as 2SLGBTQ+ through sharing their lived experience, increasing public awareness, and encouraging compassion for all.
In the written interview below, I invite you to learn more about this terrific organization and their journey to publishing Hearts Linked by Courage – People Supporting People.
What inspired you to write this book?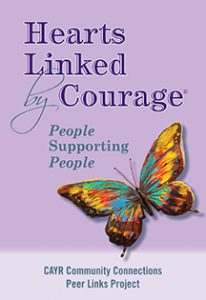 During the COVID-19 pandemic of 2020–21, for many, life became fraught with despair, resignation, and even hopelessness. It seems a fitting time to keep hope alive and inspire each other by sharing stories of resilience that most can identify with or draw strength from. While still coping with their own lives and trying to make the best of it, the story contributors willingly share their own journey, hoping that it will encourage the reader and nurture a greater sense of community.
What do you want others to gain from your book?
Hearts Linked by Courage is designed to create a bond between the reader and the writer. It teaches and enlightens us and reminds the reader that they are not alone. We can all come out of life's darkness and chart a course from resignation or self-isolation to renewal and true wellbeing.
What was your creative process for this project?
We wanted to showcase the real-life stories of resilience from our service users, who submitted their creative pieces in a storytelling format to be a part of our Hearts Linked by Courage publication.
Why did you choose the story-telling format you used?
Despite medical progress and advocacy, there continues to be stigma associated with HIV/AIDS, substance use, and identifying as 2SLGBTQ+. As such, this volume of Hearts Linked by Courage is intended to create community between the reader and the writer. This format provides a deeper connection between the readers and the contributors. It is our hope that the stigma associated with being a peer to all the communities we serve is reduced.

What's next for you as an author?
We would be thrilled to hear and share stories of resilience from community members who did not get a chance to submit to our Hearts Link by Courage publication this year. Additionally, we look forward to the continuous growth experienced by the authors who have contributed to our publication.
I truly admire the story contributors for baring their soul each in their own way, because they were ready, and because they knew it could inspire someone else who might be walking a similar path.
Feeling a sense of community and belonging is an innate human need and right. Sincere congratulations to CAYR for being a stellar example of community and for providing a safe place for these stories to be told. And warmest thanks for entrusting my team and I to facilitate the gentle editing and publishing of them in this fifth edition of the Hearts Linked by Courage series.
Be sure to check out their website and their new book page in the I C Bookstore. The digital version of this book is available now, and the paperback will be in stock soon so feel free to place your order and reserve one of the very first copies off the press.
Best wishes to all this holiday season,
Sheri
Sheri Andrunyk ©2021, Publisher, Senior Writer, Mentor, Author
Founder of the Hearts Linked by Courage Project
I C Publishing & Consulting / I C Bookstore
Committed to Quality Content, Design, and Platform