Breaking Free of Depression's Grip started out as just one of countless self-help measures attempted by Bruce to tame the extreme mental health challenges he faced. It became a gift of honesty, openness, and encouragement to all of us who want to understand depression and anxiety better, whether in ourselves or others we care about.
Bruce Ross recounts his experiences in candid detail. Real life at different ages and stages. Work and the demands of a culture that once exacerbated, and still does in many cases, the stigma attached to mental health. And living life well despite depression's grip.
We're thrilled to announce that Bruce's book is available in the ICBookstore.ca. The digital version in PDF can be purchased and downloaded now. The paperback can be ordered and will be shipping the week of January 19. Be one of the first and reserve your copy now. And e-reader formats for your favourite tablets should be ready for ordering in the ICBookstore.ca in February and other e-stores shortly thereafter.
Be sure to watch for Bruce's interviews this month too! His website (www.BruceRRoss.ca) will be updated with media links as soon as they're available, and we will share
what we can via our social media platforms.
As with all our books in the ICBookstore.ca you can read more about Breaking Free of Depression's Grip by visiting its exclusive book page with all the details. Check out the Table of Contents, Introduction, Testimonials, Publisher's Note, and the Foreword by Sidney H. Kennedy, MD, FRCPC, FCAHS, FRCS.
For now, read on below for a glimpse into Bruce's process of writing, in essence his memoir, and the difference he hopes it will make to others on a similar path.
What inspired you to write this book?
As you know, it started out as one of my many self-help measures attempted to combat my depression/anxiety. I had read that if you write down the ruminating and worrying thoughts that occupy your mind, it will relieve those unproductive thoughts and put your mind at ease. Soon after starting to write, I realized that I had many stories to share, and I transformed the book into what it is today.
What do you want others to gain from your book?
The underlying, yet subtle, message for readers is one of hope; despite living with depression, a person can still have a successful and productive career, family, and personal life. If the reader can indeed appreciate that fact, I will have achieved my objective. 
What was your creative process for this project?
I have a strong long-term memory and therefore I'm able to recall events in detail from years ago. As situations arose that triggered these memories, I jotted them down. Interestingly, the process of recalling these events frequently led to recalling more situations from the same period and thus one story often led to another.   
Why did you choose the story-telling format you used?
Many depression books are written from an academic or clinical perspective. I wanted mine to be a book to which a layperson could easily relate. Everyone can associate with stories, so I believe the best way to share what it is truly like to live with depression is via a story. 
What's next for you as an author?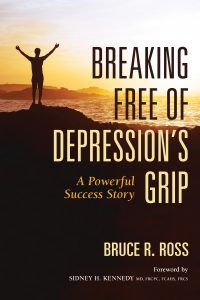 I look forward to being a part of the continuing discussions around mental health in the workplace and I'd be honoured to present and speak with management teams about the importance of open dialogue, self-care, and work-life balance.
Bruce's story is far too familiar, and the courage he's had to share it publicly will undoubtedly help many. It's been a tender and thought-filled process, and Bruce has cared about every detail. This is unabashedly his voice, his journey, and his way. We should all be so brave.
My team and I are grateful to have played a small role in bringing to life the message in Breaking Free of Depression's Grip: A Powerful Success Story.
Warmest blessings and best wishes for a healthy, happy, and prosperous 2022!
Take good care of each other,
Sheri
Sheri Andrunyk ©2022, Publisher, Senior Writer, Mentor, Author
Founder of the Hearts Linked by Courage Project
I C Publishing & Consulting / I C Bookstore
Committed to Quality Content, Design, and Platform
Bridging the gap between self and traditional publishing