Next up at I C Publishing, host of In Char's Kitchen and new cookbook author of Delicious & Doable: Recipes for Real and Everyday Life, Charmaine Broughton.
Charmaine has put her heart and soul into Delicious & Doable, caring about every word, measurement, helpful tip, and mouth-watering photo. The recipes are fun, creative, and diverse, and will encourage the novice home cook as much as they will captivate the more experienced chef.
Kudos to Charmaine for staying true to herself and her amazing style. She exudes warmth and charm. The affection she has for feeding her family and friends is reflected in every delicious and nourishing bite of each dish she has gifted us here.
Everyone who loves food and cooking—for themselves and others—will discover great joy within these pages.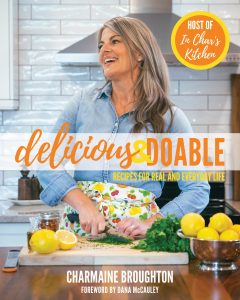 Check out my written interview with Charmaine and feel her energy pop from the screen right into your kitchen:
What inspired you to write this book?
For years, writing a cookbook felt like a farfetched dream. Something only possible for other people. As I established myself in the food industry and gained more credibility (TV segments, hosting a cooking show, writing for publications, and teaching cooking classes), people started asking me, "When are you going to write a cookbook?"
I'm a firm believer in going with your gut, and the timing just never felt right. And then it did. I literally woke up one morning in late 2020 and said to my kids, "Today's the day, I'm finally going to begin writing my cookbook, and here I am!"
What do you want others to gain from your book?
I truly believe that one of the healthiest things you can do in life is have your cake and eat it too. Life is far too short not to indulge in the foods that bring you and your belly delight. So, you might gain a pound . . . ha! But seriously, consider Delicious & Doable your permission slip to consume a variety of fun and flavourful dishes.
The majority of my recipes (if not all of them) use pantry staples and methods of cooking you don't need a degree in culinary arts for. You don't need super fancy ingredients to feed your gang well. I've been in the food industry for almost thirty years and one of my family's favourite meals is my Ultimate Supper Sandwich; and dinnertime doesn't get much easier than that! (Page 33, by the way).
What was your creative process for this project?
I love eating and feeding my family (in that order 😊). My creative process came from just being myself and sharing recipes that bring my family and those close to me joy. Delicious & Doable is filled with countless recipes; many are gluten free, vegetarian, vegan, super nutrient dense, and others are (yep) sinful and filled with an obscene amount of fat and calories.         
Why did you choose the story-telling format you used?
Writing and developing recipes is easy for me. It's what I do. It's what I love. But, by no means am I a writer! So, for the few areas in this book that I actually wrote (other than the recipes), I did so exactly as if you bumped into me in the grocery store and asked about a recipe. I'd say "Oh, that's a favourite of Tyler and Colgan's" or "Greg does not like fish, so when we're in a fight I make my seafood chowder." Lol. Guess you could say I just spoke and story-told from the heart.
What's next for you as an author?
A break from writing. Ha!
Writing a cookbook is a massive undertaking. Recipe development, testing recipes, tasting recipes, testing and tasting again and again (thank goodness I love working out), and then there's the food styling and photography. I do have an idea for a second cookbook but will likely wait until my gut tells me it's time to do it again.
We're proud to have played a part in bringing this vibrant publication to life.
You can find Delicious & Doable in the ICBookstore.ca here, at CharmaineBroughton.ca, and soon on Amazon.ca.
Enjoy,
Sheri
Sheri Andrunyk ©2022, Publisher, Senior Writer, Mentor, Author
Founder of the Hearts Linked by Courage Project
I C Publishing & Consulting / I C Bookstore
Committed to Quality Content, Design, and Platform