– For Authors & Business Owners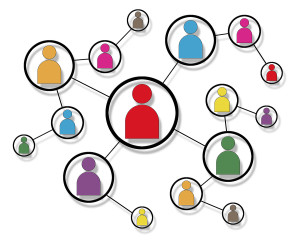 There was a time not so long ago when the only way to build professional relationships and meet prospective clients was to attend/join in-person functions and/or networking groups. Although I still greatly value meeting others face-to-face, like I'm sure you do, I also want to maximize the incredible resource and dynamic network awaiting us on social media. All we need to do is translate what we've always done well in conventional networking into what will work and be meaningful to us via social media.
Remember, whether we're networking in person or over social media, it takes time to build trust and rapport. You've heard marketing people talk about touch points, and although this takes on a whole new meaning in social media, it simply means you need to have connected with someone on numerous occasions and in several ways before you're likely to either do business with or refer them, or be referred.
Strategies for following/connecting/friending others on-line:
Look for something you have in common with others, i.e. those who think and communicate like you. For me, especially because most of my time on social media is focused on building my professional network and relationships, connecting with others who represent themselves in a similar way on-line is important to me. People who have things in common with you will also naturally be more comfortable and/or interested in you and your work—not to mention you will have something to chat about if/when you decide you'd like to connect further.
Connect with others you admire professionally, or you find interesting because of the field they study/work in.
Know who your target audience is, and reach out to them too—not to sell to—just to, potentially, get to know them a little, and stay on their radar.
Provide as much value-added content and support as you can, so others will reciprocate and seek you out too.
Ways to connect for a possible virtual coffee meeting:
First do your homework, visit your colleague's website. Familiarize yourself with who they are, etc. (just like you would if you were meeting in-person). Engage naturally and build rapport on social media.
Private messaging within most social media platforms. Conversations often start here.
Email. Most of us have our websites and email/contact info on each site (recommended), so we can be easily reached.
Virtual meeting by phone.
Virtual meeting by Google Hangout or similar.
In-Person meeting, although sometimes a little more time-consuming travel-wise.
Helpful points to cover in a virtual meeting:
Be patient and respectful. People are busy, and they want to know your intentions are genuine. Your goal should never be to try and sell anything. This meeting is an opportunity for you to make a quality connection; and see if/how you might be able to help one another. You may also want to agree to a time frame for your virtual meeting. Usually 20 to 30 minutes is plenty, although some can go longer for sure (just like when you meet someone face-to-face). If either of you have set appointments surrounding the time you both confirm, it can be helpful to communicate this as well. This way you are on the same page, and will be extra mindful of the time. Remember, you can always book another appt.
Establish common ground. For example, with a new connection I just made, our study of psychology and NLP was a great topic for both Matthew and I. And kudos to Matthew in that he reached out to me twice before I responded to set up a phone meeting. We all have reservations—yes, me too, and I shared that with him politely. We exchanged a couple of emails, and then set up a phone appt.
Express genuine interest. Instead of asking someone what they do, when you have already checked out their website and/or social media activity and have a sense of this, inquire about something more specific. If you have a question about what you've read, that's okay. Another comment might be, "Tell more about . . ."
Conversations starting with:
o   "I noticed on your website (or blog) that . . ." shows initiative and sincere interest.
o   "What have you found that has worked for you regarding . . ." Most of us are wired to help, and feel complimented when asked our opinion (within reason, of course). Make sure the questions are appropriate and fairly general in nature.
How "might" we be able to help one another? Although you could be the one to initiate this part of the conversation, asking in this way encourages more collaborative and open dialogue, and still emphasizes choice.
Here I am at the end of another blog finding there's so much more I could share. I have spent over 30 years working on my own growth, and helping others' on their journeys as well. The topic of relationships is still at the forefront almost every day—from relationships with our self, and with others, to our growing audience in business (a platform of which is multiplying in size every minute on social media).
With that thought, I will sign off again for now; although this time with a challenge. Ask yourself how many new people you would like to meet with virtually, via your social media platforms. Then go for it. One virtual meeting a week, or five, it's up to you!
I look forward to hearing about your successes, and keeping the conversation going. Look me up on LinkedIn, Twitter, Facebook, and Google+.
Here's to building meaningful professional relationships!
Sheri