Empress and the Prairie Girl is a thoughtful little story perfect for our time. Not only does it eloquently address a universal experience most parents endure at some point, it also includes the underlying emotion that accompanies it . . . that of our children growing up far too quickly before our eyes.
The author, Cameron Austin, has created a beautiful relationship between Empress and the Prairie Girl, and with each turn of a page invites us to travel along their path in life with great sensitivity.  
He effortlessly takes the child reader on a beautiful journey as well, encouraging family time, singing,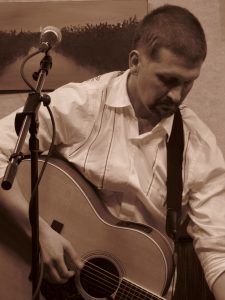 and even the arts with its truly exquisite, yet simplistic drawings.
Working with Cameron, a talented singer/songwriter and now author, has been creatively very satisfying and has definitely added another significant dimension to this meaningful narrative. We are thrilled to be a part of bringing this lovely project to life. Enjoy my interview with him:
What inspired you to write this book?
Like most artists, I take inspiration from everyday life, and sometimes the seemingly simple can spark an idea that resonates in my head for days, weeks, months, and years. Empress and the Prairie Girl is one such example. I long held the germ of a song story-line about a young girl and a wild horse who form a special relationship, and mirror one another as they grow up together. However, it took the impetus of my unborn daughter to complete the song, written one summer morning on the front porch sitting next to my expectant wife, anxiously awaiting Phoebe's arrival with all the joys and fears of a new a parent.
What do you want others to gain from your book?
Empress and the Prairie Girl is a family book that I hope parents and children return to together, reading, singing, and sharing reflective moments that strengthen their relationships. The story is a cathartic message about my own fears of watching my daughter grow up too fast, something I believe many new parents feel. Through this book, I want others to connect with the universality of that fear, and as our children grow, return to this story as a reminder to slow down together as a family. Finally, I hope that fathers and mothers will take the time to share, not just the story but the music, by strumming out the song using the chords provided in the back of the book.
What was your creative process for this project?
Being a songwriter first, inspiration comes from many different places, which is why my writer's desk is littered with random bits of paper, post-its, and napkins with ideas scribbled in the moment, shoved into my pocket, and filed. The simple answer is that this story-song started from one of these scribbled ideas that waited for the right moment to be plucked from the pile (if only it were that simple!). From that point, it was a more lengthy and convoluted journey bringing the song to life, and then turning it into a picture book. Like the birth of a child, it takes planning, research, preparation, gestation, and maybe a little divine intervention.
Why did you choose the story-telling format you used?
When I write a song, the song guides the music. In this case, the story dictated the format. It couldn't have been done another way. I could clearly visualize the outcome and, with the help of illustrator Jenna Stewart, was able to bring the words and images to life. The format of a picture book using original artist illustrations to support the text added a degree of warmth that can easily be embraced by all ages.
What's next for you as an author?
Although I do have another picture book drafted, as well as an idea to further investigate and develop the relationship of Empress and the Prairie Girl, at this point I really need to focus on the present and the journey of bringing the book and music to others. I look forward to finding intimate venues and opportunities to share the words, illustrations, and music, and connecting with others with whom the story resonates.
Growing up under the influence of Harry Chapin and other singer-songwriters of that era, it seemed only natural for Cameron to pen a story-song for his daughter.  A singer-songwriter and guitarist himself, Cameron is easily moved and profoundly influenced by life events and loves to be embroiled in the creative process, especially when collaborating with other artists.
With a degree in Environment and Resource Management, as well as Outdoor and Experiential Education, Cameron is also a special education resource teacher. Naturally, his students adore his creativity within the classroom and practical approach to teaching and learning.
Musically, Cameron has collaborated with Canadian aboriginal recording artist Sakoieta Widrick, JUNO award winner Erroll Starr, and Melissa McClelland of Whitehorse.
Empress and the Prairie Girl will make a beautiful gift for your own family as well as others. Currently, it is available through the author, here in our online bookstore, and shortly on Amazon.ca. Orders will begin shipping mid-November.
Kind thanks for your interest and support,
Sheri Andrunyk
I C Publishing & Consulting / I C Bookstore
Committed to Quality Content, Design, and Platform
Bridging the gap between self and traditional publishing