Sweet Honey Kisses for an Anxious Bear is an adorable read, and it's clear it was written by someone with a heart full of love, author and mother Christine Fishman.
The books that often make the biggest impact to the reader are the ones dedicated to helping others through a challenge or hurdle in their life. When a parent is emboldened to support and provide for their children, and that parent is an author, the weight of the words they express seem even more palpable.
Enjoy my interview with Christine:
 What inspired you to write this book?
Children's mental health, specifically pediatric anxiety is a topic near to my heart. Having anxiety myself, I was more sensitive to the signs our son started showing at a young age. When I began to research anxiety in children, I was searching for other books and child/family-friendly resources to use as we taught him effective tools on how to manage the big worries that weighed him down. It was then, that I found the inspiration to write Sweet Honey Kisses for An Anxious Bear, in hopes that it would help other children, families, and educators broach this sensitive topic. 
What do you want others to gain from your book?
I hope others will fall in love with this endearing story and use it as a teaching tool for children's mental heath and paediatric anxiety. I would love to see this book used as a foundation from which conversations are started about these topics. When we talk about children's mental health, we become advocates for those who may not have a strong voice and we educate others to help recognize early warning signs. 
What was your creative process for this project? 
My children are my biggest inspiration. They both have taught me so much about how to live life so passionately and unconditionally. When I was writing this book, I was intuitively compelled to write about the relationship between myself and my oldest child and some of the similar situations he faced during his first few years of school. I wanted the narrative to be relevant to the early-years age group, primarily age 4-8, suitable for use in both classroom and bedtime-story conversations about being brave and working through fear.  
Why did you choose the story-telling format you used?
I chose to tell the story through the eyes of Little Bear. I felt that Little Bear's sweet and timid character was relatable, and the storyline would allow other children to imagine themselves in comparable circumstance and inspire them to embrace their worries and manage them effectively with the support from parents, friends, and educators. 
What's next for you as an author?
I would love to see this book in every early year's classroom (preschool right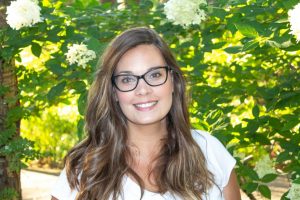 through to grade 3). I enjoy writing a lot and, of course, reading bedtime stories to my own children is a favourite part of my day. Over the next few years as I get further into my parenting journey, I have a feeling that there may be other children's books to come. I want my children to have something we read together that means a great deal to them and teaches them something as well.
Even with lived experience, it can be difficult to pass on what we know to guide and assist others, especially when they're our children. That hasn't stopped Christine; in fact, perhaps it's fueled her fire to ensure that other families, as well as hers, feel encouraged and are given the tools to cope well with some of life's trials.
Her strength and resolve even helps you recognize the growth opportunities amidst those difficulties, and to celebrate the little achievements in life as much as the big ones.
We offer our warmest congratulations to Christine on her very first book.
Be sure to catch up with us on social media to keep abreast of where Christine will be in the coming weeks, and please share this impactful little storybook with all the parents and teachers you know. If you're local to the Bracebridge area, stop by the Lodestar Montessori School on Sat, Dec. 8 from 10 am to 12:30 pm, and meet Christine in person at her official Book Launch (she'll be doing a reading at 10:30 am, and signing copies of Sweet Honey Kisses for an Anxious Bear).
Sincerely,
Sheri Andrunyk
Publisher, Writer, Author, Mentor
I C Publishing & Consulting / I C Bookstore
Committed to Quality Content, Design, and Platform
Bridging the gap between self and traditional publishing