It is not life as usual and it's affecting everyone a little differently, and in many cases a lot. Notice. Listen. Don't judge. Just care.
It's a sacred opportunity to rest, to connect more deeply to life, to ourselves and others, and to be an example to our loved ones including children of all ages, and to our community.
Consider journalling about your experiences, including what you're grateful for every day.
Nourish your mind and body with healthy food and movement.
Open the windows. Spring clean your thoughts, your home, and your business. Notice the things that are working for you and what is not, today, as well as for tomorrow.
Breathe in the fresher air and be thankful we're experiencing these unprecedented times heading into spring not winter.
If you are fortunate to have a few dollars to spare, donate to your local food-banks, social services, and hospitals.
Allow the stillness to stir creativity in you, to learn something new or start a project you've always wanted to . . . For those in business, perhaps enhance your online offerings with free gifts of support to those in your online circle and beyond.
Partnering with Hospice Georgina, we are giving away two of our beautiful e-books* in the Hearts Linked by Courage collection. Our goal with this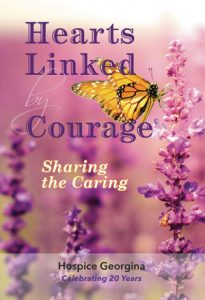 book series is to provide hope and encouragement through all the brave stories shared, as well as to increase awareness about the needs and support available in our greater community of York Region. Peruse their pages in the bookstore to learn more.
And did you know that it is National Volunteer Appreciation Week? Thank you to the many volunteers in our community who contribute tireless hours to help those less fortunate. You expand the reach of our not-for-profits and social services beyond measure. Virtual hugs and gratitude to YOU.
It's time now more than ever, to use our words, thoughts, and deeds for good. Words can inspire, build confidence, and even exude the warmth of an embrace. We all have something special within us to make a difference to one person and many. Let's pass it on and pay it forward.
There is much we may be missing of life the way it used to be just a few short weeks or so ago. However, I pose this sentiment showing up on social media recently; are we missing all of it? I think not. Do we want to go back to normal, completely as we knew it? I am inclined to believe there are at least a few things that can stay in the past, to make room for a new time. Better times. More thoughtful, more enriching times.
Quiet. Nature. Sustenance for the mind, body, and soul. Meaningful connections and community.
The I C Publishing team and I wish you, your family, and friends safe, gentle, and happy days ahead.
If you're on social media a little more these days and haven't looked us up yet, we'd love to see you there. 'Sharing lots of good food for the mind every week; I C Wisdom, Thoughts to Ponder, and Feature Fridays. We're just wrapping up sharing tips on working from home and now planning some inspiring content for the creative, writing soul.
With warmest regards and blessings,
Sheri Andrunyk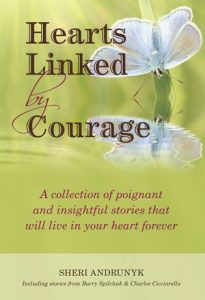 * The I C Bookstore promo codes are HeartsFree (for the original book in the series) and HeartsFreeHG (for the hospice book), the latter is compliments of Hospice Georgina. Kindly select one at a time, and although no purchase is necessary at all, should you find yourself browsing our online bookstore and wish to order, please do so separate of selecting and processing your free gift(s).
To redeem, go to the Hearts Linked by Courage book page of your choice in the I C Bookstore, click on Add to Cart under Available E-Book Formats, scroll down a bit to submit your promo code as referred to above, then press Update Cart followed by Secure Checkout at the bottom of the order page. Follow the prompts as if you're ordering (leave payment-method field as cheque or money order) and within a short time after that you should receive an automated email with a downloadable link to your free e-book. And enjoy!
This special gift offer is on for a limited time and is only available through the I C Bookstore.              
Sheri Andrunyk ©2020, Publisher, Senior Writer, Mentor, Author
Founder of the Hearts Linked by Courage Project
I C Publishing & Consulting / I C Bookstore
Committed to Quality Content, Design, and Platform