I C Publishing welcomes another new author. Sue Lantz brings so much to her first solo book. In addition to her obvious professional expertise, Sue's passion and remarkable attention to detail jumps off every page. It is evident, and fortunate for the reader, that Sue has done the research and legwork to support everything she serves up in Options Open – The Guide for Mapping Your Best Aging Journey, so one can be confident in taking her thoughtful guidance.
As Sue shares, investing time and energy now to explore your options expands your choices later. She packs extensive information into digestible pieces in terms of how to address a wide variety of individual circumstances, which helps to lessen the overwhelm many people can feel as they approach their senior years.
Enjoy my interview with Sue. It will give you a lot to think about whether you're a caregiver, senior (or soon-to-be), or author yourself.
What inspired you to write this book?
Two important life experiences sparked me to write this book. 
Firstly, the inspiration for the guide began with my own grandparents, Judy and Floyd Lantz. As their eldest grandchild, I was very close to them. I admired their foresight to make plans for safely staying in their home, in a neighbourhood they loved, with a team of caregivers around them. They remained fully engaged in life, asked for help when needed, and they provided a reciprocal support system to their family, friends, and neighbours. They did a lot of things right including taking charge of their health, adjusting their finances, modifying their home (before they needed to), and arranging home care when required. Through honest conversations about their wishes they helped to prepare all of us fortunate enough to be on their caregiving team. In combination, these actions enabled them to stay healthy and active into their early 90s. They achieved their vision of staying in the home and community they loved until the end of their lives.
Secondly, I have spent my career working at various levels (policy, program, and in the field) to improve the available housing, healthcare, home care, and caregiver supports for seniors and people living with a disability. Early on, I worked to support young people with a disability to forge a range of alternative housing and care options for living in the community, versus an institution. Over the years I have also helped countless seniors and families navigate in a crisis due to a sudden major health challenge or injury. Without a plan, some families have had to make the difficult decision to move a loved one against their wishes. Consequently, many of these seniors did not have the choice to stay in the home they love, and the families also experienced high levels of stress and worry. I kept seeing the contrast between my grandparents' model of planned and empowered aging, versus the people who had resisted the idea of aging or did not make timely decisions that gave them the option to stay in the place of their choice.
Actually, it was the contrast between my own early family experiences and my professional experiences that led me to write Options Open and share what I have learned with others. 
What do you want others to gain from your guidebook?
My goal is to encourage readers to reflect upon their own aging journey with curiosity and an open mind. I want people in their 60s or early 70s to make intentional plans that prepare them for their 80s and 90s. COVID-19 has reminded all of us than institutional models are not an acceptable option for most seniors. And research shows that 90% of seniors want to "age in place." My evidence-based navigational guide provides the reader with the foundation for proactively exploring and defining their options for aging in the right place, with the right supports. If enough people act on this advice, the options will truly open up. And my hunch is that some people will enjoy the process too!
Why did you choose the storytelling format you used?
It seemed most natural for me to create this material in a guide format. This format allows the information to be packaged in a way that is chock-full of ideas, while encouraging the reader to start their own planning by using the self-reflection tools and exploring the additional links and resources. The sub-title, The Guide for Mapping Your Best Aging Journey, reflects the travel-planning approach of considering their options and preferences. Just like planning a good trip, the clearer you are on what you want to experience, and prepared and organized your travel itinerary is, the easier it is to relax and enjoy the journey. Mapping a course for oneself that reduces the predictable risks or hardships creates an empowered model with more room for joy and being part of a community. The five-strategy framework provides readers with a systematic way of analyzing their options, making plans, and taking action to find the right housing, maintain their best health, build strong social connections, and establish a caregiving team—all within their resources.  
What was your creative process? 
My early research and exploration began gradually, through my professional work. In 2018, I was fortunate to be able to take the summer off to focus in on writing. I retreated to a cottage to brainstorm and more deeply review all the formal research I had compiled, along with practical learnings from my field work and many consultations with seniors. This was a creatively "messy time," but it was invaluable for me to synthesize my ideas and learnings and set out a new framework for the guide. Using these materials, I started to offer workshops within community settings, non-profit organizations, and businesses. These sessions allowed me to test the five-strategy framework and related ideas with seniors and caregivers. The workshop evaluation feedback allowed me to refine the ideas based on input from participants. Also, during this period, I sought advice from a few creative experts to confirm the best way to shape and simplify my material.  
When the COVID-19 pandemic hit us in March 2020, this was a game changer. The many weaknesses of our current institutional models were dramatically exposed, contributing to so many heartbreaking deaths and preventable hardships for seniors (and their caregivers). The global scale of these hardships—and the loss of so many valuable senior's lives—galvanized me to finish the book!
 What's next for you as an author?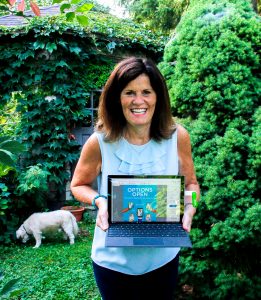 My plan is to continue on my path of sharing knowledge through delivering workshops and speaking about expanding and building upon the options within the Five-Strategy Framework. I am currently involved with a national project to explore innovative methods for housing design and development that can be led by seniors.
I have set up a new website called optionsopen.org and an Instagram profile at optionsopenguide to begin conversations and share ideas. I'm very excited to see what this next phase of work can be, based on the responses to ideas in the guide.
For more information or to purchase Options Open – The Guide to Mapping Your Best Aging Journey, you can click here to visit the I C Bookstore.
Thanks kindly and stay well,
Sheri
Sheri Andrunyk ©2020, Publisher, Senior Writer, Mentor, Author
Founder of the Hearts Linked by Courage Project
I C Publishing & Consulting / I C Bookstore
Committed to Quality Content, Design, and Platform